Pseudocipher
Pseudocipher (self-released)
By: Alex Steininger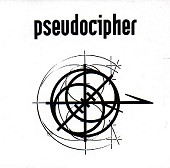 Lightly salted synth-rock/Goth, Pseudocipher delivers twelve raw cuts on their debut full-length. Unpolished and amateurish, Pseudocipher has a long way to go before their music comes alive and speaks to the listener. The way it stands, they are lacking energy and vibrancy to make the songs move; they are also lacking the passion they have for their music, because it isn't apparently clear on the album.

This isn't a bad album. It is just rough and jagged, with plenty of edges that need to be finished off. The album needs to be recorded better, it needs to be mastered, and the songs themselves need to be worked on more. I'll give the album a D.