Pillbox
Gimme What I Want (NYC Records)
By: Alex Steininger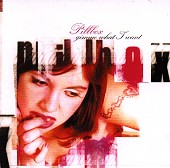 I wanted to like this album. I really did. Catchy pop with punk momentum fronted by a female with plenty of emotion. But, I just couldn't. The pop seems half charged; the band just didn't know if they wanted to rock out and kick ass or lay on the subtlety. Therefore, they got stuck in the middle with mediocre, half-rock/half-soft pop music that just didn't grab a hold of you and prove its point.

The vocals also were a sore spot for me. They would be singing sweetly and dragging you in, and the next thing they would talk and force-feed the song the words they were trying to convey, or they'd sing something that didn't fit in the music. So, no matter how much I tried, I just couldn't get into the CD. Two listens and I was through. I'll give it a C-.