Dance Hall Crashers
The Live Record (Pink & Black)
By: Alex Steininger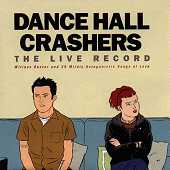 Southern California's former major label ska-pop-punk darlings are now on an indie (Pink & Black/Fat Wreck Chords), and in between new albums, has decided to release a live album. A smart move, considering the fact that the majority of pop-punk bands turn out very bland on disc, but can rock it up live.

Of course, the Dance Hall Crashers have always been one of those bands that were so poppy and infectious on album, with a heavy ska upbeat that drove your feet mad, that you couldn't help but dancing it up to their albums. They still suffered from the pop-punk trend of not coming alive on disc. So, is that problem corrected on this live album?

Most definitely. The rhythm section hits harder than hard and drives the music, while the polished vocals of the two lead singers are on key and as precise as they are on disc, which is a rare live treat. However, they have their moments where they screw up and show that they are living and breathing along with the music.

Because of these minor flaws (which give the album life), and the aggression of the band that pours out live, but doesn't really translate on the album, the Dance Hall Crashers prove they're a live band. And this certainly does them justice.

A cover of Tom Petty's classic "American Girl" sounds good (though not even a 1/10 as good as Petty's version). Other DHC favorites like "Cat Fight," "D.H.C.," "Make Her Purr," "Mr. Blue," "The Real You," and "My Problem," to name a few, also showcase the pop-punk-ska prowess of the band. I'll give it a B-.