The Distillers
The Distillers (Epitaph)
By: Alex Steininger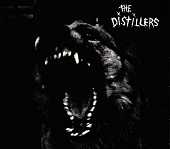 Fuck, I haven't heard a good street punk band in awhile. Until now, that is. The Distillers are tough as nails. They kick your ass time and time again with break neck punk that will snap you in two one hundred times over. Meaty, raging rhythms, razor sharp guitars, and scorching, gruff vocals peel you like an orange and leave you out for the vultures once you've been exposed for all the world to see.

Fourteen songs of non-stop punk; it seems to me The Distillers don't know the meaning of the word 'quit', 'cause they just don't give up. "Oh Serena" comes flying at you, and the relentless band just doesn't let go until the final notes of "The Blackest Years."

OK, I may have been caught dissing females before, telling someone that females can't rock out or do punk as well as guys can. But, once again, I have to eat my words (I'm used to this by now, so, oh well). The Distillers kick most of the boy punk bands' ass with their splintering, rock-solid punk that can crush you like a pop can and rip you in two like the jaws of life. Long live punk; long live The Distillers. I'll give this an A.