Reggie and the Full Effect
Promotional Copy (Heroes & Villains/Vagrant Records)
By: Alex Steininger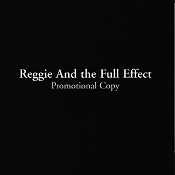 Crunchy pop-punk with raging guitars, clean vocals, and pounding rhythms, Reggie and the Full Effect's Promotional Copy is the typical pop-punk album. But, hey, it's also a perfect pop punk album. All the energy you love of punk is here. The sweet hooks and sing-along fun of pop is also here.

Crank up "From Me 2 U," drive fast down the street with "Good Times, Good Tunes, Good Buds" roaring out your car windows, with its experimental hardcore punch kicking the shit out of you, or dance to "Congratulations Matt and Christine".

These masters were never meant to be released. A fire burnt a whole block, including the infamous White Chocolate Studios, where Reggie and the Full Effect recorded. Some claim Reggie set the fire due to mounting gambling debts. But, thanks to an unidentified person who recovered the master tapes and sent them to Heroes & Villains/Vagrant Records, the album is now going to see the light of day so fans worldwide can hear the band they love to bootleg. Some of the song titles and samples were not titled so names were made up for them. But, scraping up everything and piecing it together for release just adds to the effect of this album. Simply put, here is some solid pop-punk. I'll give it a B+.