The Donner Party
Complete Recordings 1987-1989 (Innerstate Records)
By: Alex Steininger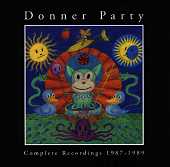 Sam Coomes has made a name for himself within the indie rock circle of the music industry. He is best known as the front man for pop darlings Quasi; he can also be found playing bass for Elliott Smith.

But, before he was able to make a living off of playing music, he was a little known musician in an obscure band (even in their hometown) by the name of The Donner Party. Finding it hard to get gigs and playing in front of nobody more times than they'd like to recall, The Donner Party did it for fun. For the love of music.

Now that Sam Coomes has made a name for himself, Innerstate Records, a San Francisco-based indie, had decided to release The Donner Party for the first time on CD. Both full-lengths are here, as is the unreleased Donner Party third album, and a live show, all on a 2-disc set which pays tribute to the band that never was, but now is - at least in the eyes and ears of Quasi and Elliott Smith fans.

From heavily distorted garage rock to blossoming pop and even some folk, The Donner Party covered a lot of ground. But, their specialty was loud, noisy pop music with the ever-so-popular distortion of the guitar screaming away.

Though the music sounds somewhat dated and very eighties (it was recorded between 87-89), Sam Coomes' blossoming talent is recognizable and the seeds were planted for his then future work in Motorgoat and Quasi.

The beauty of The Donner Party is their ability to rock out and then follow it with an acoustic folk number that will send chills up your spine. Such is the case with "The Ghost," a noisy, pounding 80's rocker that is quickly followed by the quaint happiness of "The Owl of Minerva".

The band is also capable of annoying infectious songs such as "Would You Like To Have Something To Eat?", most commonly referred to as the "Home Grocer dot Com song". A wacky song with lines like "Would you like to have something to eat? Would you like to have biscuits and meat? Would you like some beans or a bowl of leafy greens?", the song quickly gets stuck in your head whether or not you want it to or not.

This is by no means Quasi. You can hear the band screwing up quite often, including Sam laughing in the middle of a song. The recordings are loose and carefree, compared to the solid, tight pop and delicate harmonies Quasi dishes out.

But, here you will find fun-filled rock coupled with serious, insightful lines that has propelled Sam into the top of the songwriters pile within indie circles. He has certainly grown in his songwriting abilities, which out shine these songs with maturity and precision. However, he was no slouch here, nor was the band.

What it boils down to is this... if you're a fan of Sam Coomes and Quasi, you will enjoy this romp through his past. It's good to hear Sam a bit less gloomy, kicking back and having some fun. Not to say Quasi is gloomy, but The Donner Party has a lot more of a party feel, which might just be what you need. I'll give it a B-.