Michael J. Sheehy
Sweet Blue Gene (Beggars Banquet)
By: Alex Steininger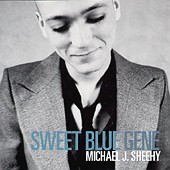 Bringing noise to the singer-songwriter realm, Michael J. Sheehy's Sweet Blue Gene stays true to the intimate, introspective guitar and voice tag that is common amongst singer-songwriter albums (or at least artists attempt to make common on their album). Taking it one step further, he adds his own touch to the genre, expanding his noise with samples, and a noise touch that gives the songs the edge.

"Love Me Oh Sweet Jesus" is what you'd expect from a singer-songwriter album; acoustic guitar, introspective voice, and light percussion giving the song some rhythm. "Cross," on the other hand, is not what you'd expect. The shimmering rhythm section shakes things up, and the experimental edge gives the song flavor, spicing up the bland singer-songwriter mix and giving the song an identity of its own.

"Auditory Nerves" is another example of a simple solo singer-songwriter piece, relying heavily on his voice and acoustic guitar, where as "Daddy Is A Good Man" is all samples and noise. Something you would be hard pressed to find on a "singer-songwriter album".

Sheehy experiments and breaks new ground as a solo artist, taking what has already been done, doing it, and then re-doing it while taking it further. I'll give this a B+.