Tommy Guerrero
A Little Bit Of Somethin' (Mo' Wax Label)
By: Alex Steininger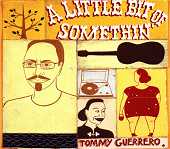 An instrumental jam of various noises, both artsy and straight ahead, A Little Bit Of Somethin' is an experimental smorgasbord of music spanning the history of music both domestic and foreign. Everything from the conventional to cross the boarder and cross the sea come into play at one time or another on this album.

It's all-over-the-place, which is a real turn off for me. It never sinks its teeth into one thing. Which, granted, can be nice, because never do you hear the same thing twice. But, when it isn't a little bit familiar track after track, it gets hard to latch onto - hard to find something to really keep your interests.

So, listen after listen, I was never able to focus on the album completely. My mind would last three or four songs and then start to wander. Even when I tried to listen to it during naptime, it just put me out fast (thank you, thank you... I was tired). It just wasn't my cup of tea. I'll give it a C-.