The Jealous Sound
The Jealous Sound (Better Looking Records)
By: Alex Steininger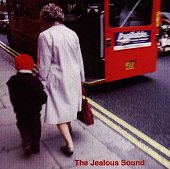 Former Knapsack frontman Blair Shehan is back with his latest project, The Jealous Sound. Jagged rock, sharp emo, and plenty of pop to push it along, The Jealous Sound delivers catchy, memorable rock nuggets that will leave you wanting more.

A five song EP, you can't help but crave a full-length. Though The Jealous Sound deliver tight, punchy rock tracks that you won't soon tire of, after a few spins of the EP, variety is what you'll be craving. In the meantime, these five emotionally-charged songs will curb your appetite. I'll give it an A-.