INTERVIEW: Primitive Radio Gods
Standing Outside A Broken Phone Booth With A Gold Record In Their Hands (Primitive Radio God's Web Site)
By: Alex Steininger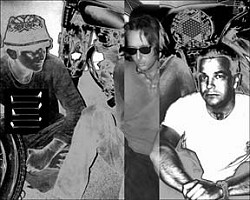 Frontman Chris O'Connor and his band, Primitive Radio Gods, have an all-too-familiar story to tell: band makes record, band gets signed, band has hit record, band's follow-up record is never released.

After selling over 500,000 copies of their 1996 Columbia debut, Rocket, the Primitive Radio Gods soon found themselves without a label, as Columbia failed to hear a song capable of duplicating the success of their breakthrough hit "Standing Outside A Broken Phone Booth With Money In My Hand".

Still motivated, though, the band took it upon themselves to record their sophomore record, even though they "didn't know who was going to release it," as frontman Chris O'Connor states.

"Six to eight months after Columbia dropped us, Hi-Fi (the label that still held the option on their second record) was working out a deal to plug us into Sire," O'Connor says. "A year of arguing followed. Finally, in early '98 we agreed on an album."

Things were now starting to look up for the band. But that wouldn't last long.

"Then London swallowed up Sire and we were in limbo again."

With their gold record status now two years old, the band was itching to get another record out. With no money and no label support, it just didn't seem like it was going to happen.

"At one point they owned the rights to the name of the band and the music. So we thought we'd change the name of the band and write new songs, but we didn't like the idea of only putting out one record and calling it quits. "Then, as time past, we all got day jobs and had less and less time for the band, so we kind of went on hiatus for awhile," says a much-more experienced O'Connor.
We then start to talk about going from a day job to a full-time musician to a day job again.
"It was definitely hard to keep motivated with normal life creeping in after three years. We just couldn't afford to take on Warner Bros., so we kind of just let it be." He thinks for a second and then points out, "That's how they tie you up. They know you can't afford to take them on so it just goes on until you give up.
"We've been doing this for so long, though. We were doing it long before we put out a record. So, it wasn't a big shock going back to what we were doing before the hit," O'Connor says with confidence.
Forgetting the major label troubles for awhile, O'Connor and I start talking about their hit song "Standing Outside A Broken Phone Booth With Money In My Hand" and its rise to commercial success.
"It was originally released in Europe. When it didn't chart over there, we thought it was over. Then, two months later, it broke in the US and we found ourselves on the road, playing to packed houses and hearing our song on the radio in every town we went to."
This brings me to my question regarding touring.
"We all work now and can't afford to lose money on a tour like we did when we had a single."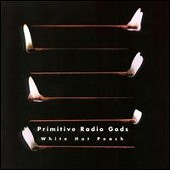 The story has a somewhat happy ending, though. The band's sophomore release, White Hot Peach, saw the light of day four years after it was originally scheduled for release.
"We were so bored, and we weren't sure who, if anyone, was going to put out this record, that we mixed songs like twenty times," O'Connor says on the variations and mutations White Hot Peach took from its inception to the street version.
"Some songs went through huge changes, not just name changes," he says. " White Hot Peach is actually the forth album we did. It contains the only songs we could stand."
He then starts to talk about some of the other albums they submitted to the majors that will never see the light of day. " Invisible Landscape was the first record we submitted to Sire. None of the eighteen songs on the album worked for them. Then there was Melatron On, the album Sire eventually agreed upon."
With so much bad experiences in their past, would they ever sign with a major label again?
"It depends on the future. If this record has a hit and our next record has a hit, things will change. If not, no. I'll take one hit record over none any day."
Leaving me with a glimpse into the band's future, O'Connor remarks, "It's all sort of starting again. Our jobs are a problem now, but we're going to definitely make another record and find someone to put it out. Other than that, I don't know what is in store for the band."