SHOW REVIEW: Elliott Smith
Portland, Oregon - November 10 & 11, 2000 (Roseland Theater)
By: Alex Steininger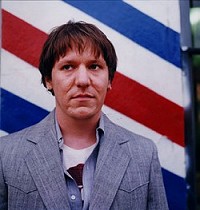 Photo by Autumn deWilde

So much has been said about Elliott Smith. One of the most oft-used tags is 'punk gone folkie', preferred among critics because of Smith's transformation from the co-songwriter of the hard rock outfit Heatmiser to his solo beginnings with Cavity Search Record's release of Roman Candle.

No matter how many rock songs Smith writes as a solo artist, though, the folkie tag seems to follow him around, much to his dismay. And even though his latest two albums, XO and Figure 8 (both on Dreamworks) are far from folk, critics still tag him with the easy-to-use description.

Never one to give into trends or to live in his press, Smith's recent two consecutive shows, both sold out, in Portland, Oregon gave a much different taste of his musical identity than his albums. Recalling the loud days of Heatmiser, while still staying true to his status as a pop genius (and making sure the songs didn't stray to far from their recorded counterparts), a tired-looking Smith and band delivered rocking renditions of songs like "Division Day," "LA," "XO," "Junk Bond Trader," and "Speed Trials," to name a few.

Focusing on material off of Figure 8, but, as always, playing plenty of back catalog treats, Smith delivered a near identical performance each night, from the clothes he was wearing, to the set list.

Which brings me to my biggest concern for both shows: do Elliott Smith and bassist Sam Coomes ever change their clothes? Coomes' attention getting "Bull Shit" shirt graced his body both nights, despite the sweaty performance he delivered each time. And Smith's outfit didn't change either. They may both be amazing musicians, but they might need to change their clothes more often.

One of the only things that differentiated Friday night's show from Saturday night was the ending song. Closing each night out with a cover, Smith chose a Beatles tune for Friday; forgive me, I lost my notes and can't remember which one. Saturday night he delivered a rousing rendition of "Don't Fear the Reaper" though. Of course, even if he didn't end the night with a different cover, each show would still have been just as tremendous.

Seeing Elliott is always a treat. Seeing him this lively and rocking is just a jaw-dropping experience. Both shows left me with the overpowering feeling that Smith needs to grab everyone who thinks he's a 'folkie' by the balls and shake them with a loud pop record as only he could do.