The Chesterfield Kings
Surfin' Rampage (Living Eye Productions)
By: Gary "Pig" Gold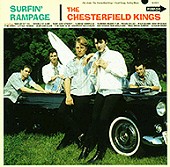 The legendary C. Kings have been a lot of things to a lot of people in their always colorful career: (early) Stones-worshipping cave stompers, Dee Dee Ramone-supervised nouveau-punks, defiant Upstate glam-rockers, (mid-period) Stone-throwers, then suddenly --a SURF combo?!!

Well, Pendelton shirts notwithstanding, this delightful album is much, much more than just another Beached Boy riff-off: these boys actually got down and get wet grappling with the REAL thang, be it Domenic Priore-approved instrumental work-outs or Sloan & Barri-composed bingo-blanket ditties. The thirty-two (count em!) selections packed onto this disc more than prove Greg, Andy and the guys have spent their due time pouring over Surfaris and Fantastic Baggy albums, to say nothing of the late, greatly missed Gary Usher's considerable song folio, yet it's Brian Wilson's ultra-challenging "No Go Showboat" which shows the Kings, unlike the majority of other mere mortals who might attempt such a task, possess even the vocal chops to pull it all off.

More surprising still is that amongst several equally authentic swipes at the dreaded Hot Rod genre herein, the coolest by far is the band's own composition, "Shelby GT 356," which would easily pass the mustard on the flipside of any Jan & Dean 45, believe you me!

I only hope The Chesterfield Kings will now go that extra quarter mile and attempt this endeavor on stage (now THAT would surely separate the ho-dads from the gremmies!), but even if this is one incarnation of the band's that is destined to exist only on record, and possibly only this once, these guys all get my stamp of approval for riding this particular killer wave ALL the way in and living to stomp about it.