Tahiti 80
Puzzle (Minty Fresh)
By: Alex Steininger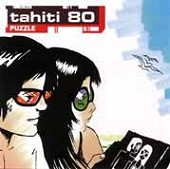 Puzzle is the kind of album you can hear, see, and feel. Each sound will fill your body with different delights, while the hooky electro-pop grooves while paint vivid pictures of paradise in your mind, all while your ears are treated to some engaging candy.

With plenty to dance and smile about, this warm-hearted album feels like a tropical island track after track. A lot of albums aim high, trying to take you to another state of mind where you can feel vibrant and young again, without the worries of adulthood. Many fail. Tahiti 80 does not.

Grooves upon grooves lay next to sunny pop and bouncy melodies, all of which collide against your body and make you shake, rattle, and roll to the plentiful sounds being delivered via your stereo. I tried to explain this album in so many other ways, but I just failed. It truly is the feel good record of so many summers - of so many years. Sit back, enjoy, and get a real smile across your face. I'll give it an A.