Texas Terri and the Stiff Ones
Eat Shit + 1 (Junk Records)
By: Alex Steininger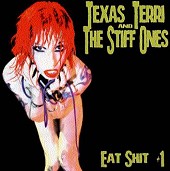 Holy shit! I thought rock 'n' roll was dead. I mean, sure, there are some good rock bands out there, but since I haven't heard a good rock release in six months or so, I thought rock had finally died. That's until I got the latest Junk Records release by Texas Terri and the Stiff Ones. And, boy, has Junk made me re-think my stance on rock once again. Damn this label knows its shit.

Texas Terri and the Stiff Ones are hard-on rock 'n' roll for the drunks, drugies, nymphs, and anyone that wants to get their ass kicked for fun. This is the real shit. Texas Terri's screams are bloody and raunchy. The band plays with the same fire, turning perversion and the grotesque into a sound that will make your head spin and turn your mind into a daze.

This record is loud, obnoxious, fierce; it's a collection of bad luck, bad life, and tragic stories that end up causing nights of excess that turn everything into fun and make it alright. This record is rock 'n' roll to the tee. I'll give it an A.