Uncle Tom
Uncle Tom (Fuse Records)
By: Brian Connelly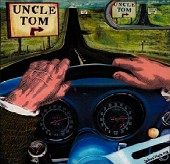 Uncle Tom picks and cultivates the appropriates bits and pieces of the snot rock/punk spectrum, from Iggy Pop to Guns N Roses, and melds them all into a nicely wound, tightly constructed ball of rock n roll mischief. They picked up on all the requisite energy and boorish vocals and blends them with pop sensibilities and style well. Their influences range from The Beatles to Cheap Trick to the Sex Pistols, depending on what mood they're to be in. Their main problem seems to be that their musical ball is a bit wound too tightly, constraining this rather intelligent and sometimes cleverly humorous band's hidden raw capabilities. Warning: beware of crude humor on "Your Mother Told Me".

Songs like "I'm in Love with My Gun", "Out A This World", "Confused" and "B Like U" are perfect teen angst gems-- but they can't seem decide if they want to go the pop or punk route. So instead, they stay tensely in the middle ground, never slipping far off enough to unleash the punk side, nor staying too manufactured enough to become too poppy. These songs seem to nudge towards the notion that the Clash did better work after they went commercial--

I don't know if the lead singer's degree in clinical psychology degree had any bearing on one of this band's strong points: it's uncharacteristically deep lyrics (for punk). A number of punk bands can be said to be well rehearsed in social issues, but very few are truly tactful and accurate when it comes to interpersonal issues. Their jackhammer beats and high speed sonic style strangely blends well with thoughtful lyrics about teen suicide, gender issues, sexism, drugs and death.

Overall, if these guys keep going down this road, they can't go wrong. They are definitely a catchy band who has appeal to fans of rock, punk, pop and just having a good old time without the trappings of being musical morons. However, I feel that if these guys were just to let loose a little more, they could really touch upon some genuine musical prowess that could only elevate their music.