Acetone
York Boulevard (Vapor Records)
By: Alex Steininger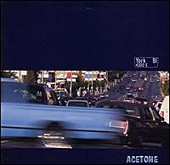 Sonic, radio-friendly pop-rock that is slow and quirky. Acetone deliver a commercially viable, major label released record that delivers heavily from the indie rock and indie pop bands much better than it, but also adds its own touch of tight, punchy production and solid arrangements to the mix to further the commercial viability of the record.

When I first put on the record, I was sure I was going to get served up a bad modern rock record. I was surprised though at the quality of this record. It was quirky enough to go against the grain, but poppy enough to not shoot off into left field. It's a slow, distant record that sonically defies anything the majors are releasing now. And what a relief that is. I'll give it a B+.