Dashboard Confessional
The Swiss Army Romance (Drive Thru Records)
By: Alex Steininger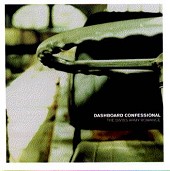 The debut release from troubadour Chris Carrabba (aka Dashboard Confessional), The Swiss Army Romance is an album that is all about what music should, but seldom is about it seems - personality and emotions.

Carrabba wears his heart on his sleeve with every note, tenderly painting vivid pictures of love gone wrong and the sorrows and heartaches we all most endure. Sure, this is nothing original or new, since everyone has and does do this. However, he's clever enough to make it sound lively and personal, yet universal and not too cliched.

The basic chords of the guitar give the music a simplistic feel, while the vocals and lyrics give the music its depth. Teamwork at every stop, even as just one man, Dashboard Confessional says more and achieves more than most bands will ever do.

Here is to a new songwriter who just might become an influence in the indie scene. A few more records and he could be a cult favorite. I'll give this album an A-.