Tribal Music
Tribal Trance and Rivertribe (Tribal Music)
By: Sonya Brown



I received 4 cd's from Tribal World for review... three "Tribal Trance" cd's... and one "RiverTribe" cd.

Tribal World (http://www.tribalworld.com.au) is a world music distributor located in Melbourne which features ancient sounds of Australia, North America, Africa, India and Ireland. Peter Lane, representative for Tribal World, is also the father of Penny and Nelson, both band members of Tribal Trance, who are based in the Sunshine Coast region of Queensland.

Peter states, "If you are looking at a map, the nearest major centre is Noosa on the coast and just inland is a place called Eumundi, which has a weekly craft market at which the group regularly plays." The sister group, RiverTribe, are located in Melbourne and Si who is at Byron Bay in northern New South Wales.

While RiverTribe and Tribal Trance are from more populated communities of Australia ("Townies"), merely listening to their music validates the strong emotional link these bands seem to have to the Australian bush.

My Tribal World collection now consists of the Tribal Trance cd's Didgin' in the Dirt (1996), Deep In Didge (released in 1997); and Minjahra (1999); as well as the RiverTribe cd, Journey.

Let me begin by listing some of the unique instrumentation you will find on these cd's: didgeridoos, saxophones, flutes, jungle drums, keyboards combined with tribal chants, electric fiddle, and many other instruments that I can't even begin to know how to pronounce!

Let's start with Tribal Trance...featuring Matt James, Rodger and Rene Bradshaw, Chris (Nelson) Lane, and Penny Lane.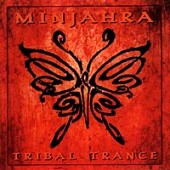 MINJAHRA
We Begin with the latest release, Minjahra. This cd is named for Minjahra, the daughter of Penny and Matt, and features Nick Potts on the electrified 5 string Celtic fiddle. Peter informs me that the name Minjahra is similar to a Hindi word loosely translated as angel of God. "Minnie was born late in the recording cycle for the CD and her name was given to the CD and her picture, wearing headphones, is included in the cover art".
Minjahra features soulful sax, tribal percussion rhythms and beats with female vocals... or chants I should say, as there are almost no lyrics. I asked Peter about the animal sounds heard on this track, to which he replies, "There are some bird sounds in the track Minjahra... but most of the things which sound like animals are barks and growls which are traditionally part of the didgeridoo playing. They are produced at the same time as the main didgeridoo tones and are not over dubbed. This continuity and variety is part of the magic of good didgeridoo playing."
My favorite tracks on Minjahra would be the ethereal title track, and The Celtic One, which features a bit of a faster pace and absolutely lovely guitar and sitar. Peter states that many people find the sitar difficult to identify because Matt plays sitar so gently... "most people expect sitar to be strident as in the traditional Indian raga". Minjahra is almost minimalist... but certainly not lacking in any way.
The track, Bharat, has a bit of a middle eastern flare. Peter understands that Bharat is a term related to Indian Tabla percussion.
Minjahra leads out softly with gentle flutes and lovely poetic lyrics in Ancient Lines - another one of my favorite tracks.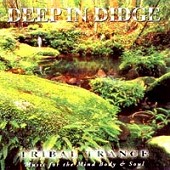 DEEP IN DIDGE
The next cd, Deep in Didge, felt somewhat deeper using both male and female vocals; though I must admit that Minjahra would be my favorite of the 3 Tribal Trance cd's.
Forest Dance, track 1, features a male vox speaking the opening words "Moon shines on the ancient forest, Goddess of night, forces of One. Black and white - our blood is the same". Such beautiful poetry that materializes images of carefree dancing under a moonlit Australian sky.
The track Orange Leopard Moon features an instrument called DJEMBE. Peter informs me that the djembe is a West African traditional drum with hide over the top of a hollow wooden base shaped a bit like a wine glass. You will find a picture of one in the centre bottom of the Tribal Trance website which you can access via http://www.tribalworld.com.au.
Peter also notes that The MRIDUNGA is another drum similar to the djembe... "there are in fact around 12 different kinds of flutes and whistles scattered throughout the music but the Native American Flute or Block Flute is the most used in addition to a normal western silver flute and a soprano saxophone. The variety of instruments (each of the musicians is multi-instrumental) is, I guess, indicative of their deep love of a wide range of international roots sounds and their belief that there is a spiritual commonality which transcends geography, history and time."
In keeping with the world sound theme so prevalent with Tribal Trance, the track Medicine Bear also features the Native American flute.
The 5th track, Homecoming, is actually a live recording, recorded at Obi Obi Studios, and features chimes, keyboards, and another odd sounding instrument... KALIMBA. Peter sites that the Kalimba is the African Thumb Piano which is played by depressing metal tines which are mounted on a wooden sound box.
I think my favorite track on Deep in Didge is Mamas' Prayer which uses a MRIDUNGA, and has a bit of a funky side - which reminds me a bit of some of the music performed by the artist Jamiroquai.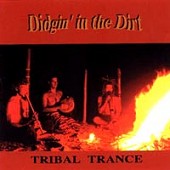 DIDGIN' IN THE DIRT
The last Tribal World CD, Didgin' in the Dirt, is the first release by Tribal Trance.
This cd features a track called "River". I asked Peter if this track were in any way related to the Rivers track which appears on the Minjahra cd, to which he replies, "The only connection between "River" and "Rivers" is their love of the natural environment. If you look at the music of the sister group RiverTribe you will find a track called Rivermouth. World musicians seem to have a strong affinity with water."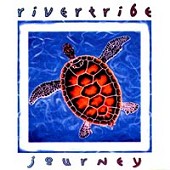 RIVERTRIBE - JOURNEY
RiverTribe is the sister band to Tribal World and also features unique instrumentation and world sounds; however there are no vocals on Journey. RiverTribe are based in Melbourne, home of the Yarra River, which is how the name RiverTribe came about.
Members of RiverTribe include Mike Lane, Stu Fergie, Matt Aitchison and David Gleeson... who share a common bond in that all 4 of them are active Christians. This bond is intentionally visible with the religious references on Journey (as indicative in the cd jacket and track titles). A more spiritual experience awaits within the expressions and musical movements carefully recorded by RiverTribe as RiverTribe considers their music not only art, but also ministry.
Stu Fergie, originally from the Torres Strait Islands to the northeast of Australia, not only brings the main indigenous influence to RiverTribe, but provides the traditional cover artwork for Journey as well... a sole terrapin, perhaps on a long journey of her own, swims outstretched in still blue waters .
My favorite track on Journey, House of Light, combines the gentle sounds of violin and keyboard that lull you into a feeling that the concerns of the day will melt away the longer you listen to the music.
I would most compare the music of Tribal Trance and RiverTribe with the music styles by artists such as Vidna Obmana and Roger Fisher. Sometimes jazzy, new-age experimental instrumentation and world beats... comfortable, ambient music to sooth your soul and make you feel in tune with the universe... all with a message of cultural tolerance, as noted on the Tribal World "Minjahra" cd insert which reads: "Tribal Trance gives respect and gratitude to the indigenous culture and peoples of Australia", but this music can be enjoyed on any continent.
Tribal Trance and RiverTribe conduct feelings of harmony and relaxation... a different pace... with cultural influences often unmatched by those experienced here in the United States. This brings to mind music that you would expect to find featured in world markets such as Pier I and Cost Plus Imports... but for now you can find both Tribal Trance and RiverTribe at CDBaby (http://www.cdbaby.com/tribalworld) - along with some interesting comments and reviews - or you can visit the Tribal World website at http://www.tribalworld.com.au/ or contact Peter Lane at [email protected].