Charlie Rich
Behind Closed Doors (Epic Records)
By: Alex Steininger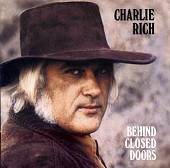 The 1973 release of Behind Closed Doors propelled rockabilly and country legend Charlie Rich into the spotlight. With four bonus tracks ("Mama, Take Me Home", "Ruby, You're Warm", "Papa Was A Good Man", and "I've Got Mine") that have been previously unreleased, Charlie Rich's Behind Closed Doors is a monumental country album, rightfully earning its way into Epic/Legacy's re-issue country series, American Milestones.

Soft, slow, steamy country songs with a slight pop crossover appeal, Rich's masterpiece sounds as good, if not better, than it did when it was originally released in 1973. Songs such as "The Most Beautiful Girl", "If You Wouldn't Be My Lady", and "Peace On You" are absolutely stunning. I'll give this an A.