Soundtrack: You Can Count On Me
Music From The Motion Picture (E2 Records)
By: Alex Steininger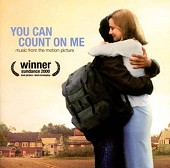 Winner of the Sundance 2000 best picture and best screenplay awards, You Can Count On Me's soundtrack is equally as compelling, led by country renegade Steve Earle & The Del McCoury Band.

Hard-edged country and country-rock give the soundtrack a rough, tumble feel, jumping around from screaming country mayhem to settled-down, back porch stompers. Steve Earle, along with The Del McCoury Band, take you through five hectic country numbers that will leave you stunned, while V-Roys go chaotic and deliver the blazing country that sets the soundtrack on fire. Other notables are Cheri Knight and Marah, to name a few.

Having never seen the movie, the quick-draw soundtrack makes me really want to. This is country perfection. Forget modern country and Nashville pop, as this is the real deal through and through. I'll give it an A.