Cripple Bastards
Misantropo A Senso Unico (Deaf American Records)
By: Jeb Branin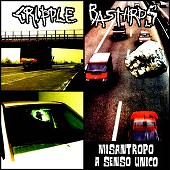 "I wasn't planning to release a CD on Deaf American this year - then I heard the new Cripple Bastards album." - Rich Hoak of Deaf American Records

The above quote from an email Rich Hoak sent me just about sums up how amazing this new C.B. disc is. It doesn't matter if you were turned on by their excessively noisy early output or if you have just been a fan of their later fastcore mayhem (or even if you have never liked them) this is hands down the best thing Cripple Bastards has done. They have taken things to a whole new level. They combine the pure entropy of their early sound with the unbridled insanity of their more recent stuff and have run it all through a grindcore meat grinder. Imagine if you will (and if you dare) "Kill Trend Suicide" flavor BRUTAL TRUTH combined with early CROM and infused with a classic hatecore vibe - this is that good. I kid you not. The last track on the CD is even a cleaned up and listenable remake of their entire A.C. influenced demo which was close to 100 songs long, so it is a great bonus! The artwork doesn't do a lot for me (real life violence/gore imagery has lost any impact it once might have had due to overuse) but I intend to listen to the CD not look at it - so who cares?