Johnny Dowd
Temporary Shelter (Koch)
By: Alex Steininger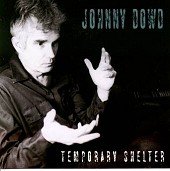 Dowd is a brilliant man. His sick tales of the bad side of America are compelling, haunting, freaky, and charming. His lyrics always wrap you up like a good book, and you can't help but feel the pressure build as the songs progress from one verse to the next.

Musically, his songs are jarring rock numbers wrapped in folk shells, though neither rock nor folk really apply to Dowd, as the outcome is something spectacularly different, a rare feat in this day and age.

His latest, Temoprary Shelter is just as crafty as his previous efforts. Though this one builds and builds on everything he has done in the past, pulls it all together, and then goes schizophrenic on it all, allowing him to delve into a side of his we've never really touched upon before.

Dowd is a living genius, creating memorable songs that will be alive for many more years to come. I think a better description of his music might be 'modern classics'. I'll give it an A+.