Various Artists: Free The West Memphis 3
A Benefit For Truth & Justice (Aces & Eights)
By: Alex Steininger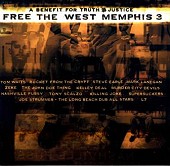 A benefit for three teens sentenced to death for murderers they didn't commit all because they had long hair, wore black, and listened to heavy metal. Free The West Memphis 3 is a compelling album, standing up and fighting for justice, equality, and the rights of every American - rich or poor - to be upheld.

An all-star cast of bands and musicians, from John Doe, Tom Waits, Joe Strummer, L7, Supersuckers, Steve Earle, and Killing Joke to Kelley Deal, Eke, Nashville Pussy, and Murder City Devils, to name a few, deliver potent rock music that delivers the message loud and clear: Unless someone with some idea of what honesty, ethics, and justice are puts on a black robe and picks up a gavel, three innocent teens (and many more) will die because they "look" evil or listen to the wrong type of music.

Support the album and cause, if only for the great music. Then visit http://www.wm3.org and http://www.thejusticeproject.org. I'll give this album an A+.