Weezer
Weezer (aka The Green Album) (Geffen/DGC)
By: Mikel Jollett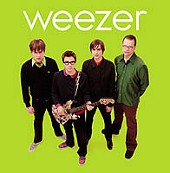 Who doesn't love Weezer? Their self-titled debut was an undeniable classic. Rife with pop redemption for geeky dudes with heavy guitars and high-pitched voices, it was the opus of a teenage garage band that you couldn't help but root for. The choruses were cheeky--the kind that everyone at the show would sing along lovingly in mock drama--sort of like Neil Diamond karoake or "Grease" movie night at the dorm. It was the kind of music associated with the guilty pleasures of serious pubescent cornpone.

But we never felt guilty about those guilty pleasures. Something about the band was somehow still cool. Was it their youth? Was it their art house fashion sense? Was it the fact that they had the good taste to tour with high-credibility indie bands? Whatever it was, Weezer could sing their little hearts out--about surfboards, about keg parties, about fallen rock heroes and teenage angst--prompting us to sing along. And we loved them for it.

Which is why it makes sense that almost nobody loved them for making their second album, Pinkerton. It was filled with a much more mature rock sensibility, much more mature story lines. In purely technical and artistic terms, it was a better album. But we did not care. We wanted our old Weezer back. The world was already littered with guitar geniuses and music school grads who could create cathartic Wagner-esque moments with their mini-rock operas. We did not want Weezer to even think about doing that. So nobody bought the album. Rivers Cuomo went to Harvard. The other guys formed other bands (the Space Twins) and we moved on with our lives occassionally pulling out the old Blue Album in manic fits of nostalgia, on long road trips, on rainy afternoons, whenever the longing for innocence and youth and bubble gum indie rock pushed us to indulge in one more chorus of power chords and unwound sweaters that only served to highlight the sad fact that the world had turned and left us here. They disappeared.

So now, four years have passed and there's this new album and suddenly Weezer is back like an ex-girlfriend that dumped us on New Year's eve in 1997. We missed her. We thought of her often. We loved her, by gum. And now she's standing there, in the doorway, wet from the rain, confessing her feelings, imploring us to take her back, to give her just one more shot. And we're flattered and surprised and glad to have the big ego boost--and truth be told, she looks pretty good in that wet sweater. So we consider it. We listen to the Green Album: nice little hooks, the old Weezerish choruses, harmonies, that do-wop rock playfulness set against big guitars...all the elements are there. But there's something missing. And then it hits us: the old flame was all the product of a certain time and place. That time has passed and that place is gone and though we still love her, we're just older now. Wiser. And it'll never work.

Which sucks because we really wanted it to work. But the sad fact of the matter is that these songs are formulaic and, with the exception of "Hash Pipe" and "Island in the Sun", forgettable. It's all verse, chorus, verse with some guitar solos and so few memorable lyrics. And like I said, we're older now and that sort of thing doesn't work as well as it did in 1994.

"Island in the Sun" is probably the album's best track. It bounces back and forth between acoustic and electric guitars with repeated calls of "hip hip" thrown in for grins. Cuomo, sounding as dramatic as a clean-cut 31 year old nerd with a gift for melodies can sound, implores, "we'll never feel bad anymore, no, no," again and again until he believes it; heart-felt words considering he spent a year boarded up in a house with no windows writing music. It is probably the albums finest moment.

That's about it as far as memories go. Which means that the album's biggest flaw is that it lacks the thematic genius of old Weezer whose songs flawlessly portrayed all of the most important things in the life of its lead singer: Kiss, the garage, his surfboard, his step-dad. The Green Album is mostly about relationships and breakups and tired topics like that. There is no "Sweater Song". There is no "Buddy Holly". There's not even a "Jonas".

But don't cry for Weezer. They have an enormous cult following and as a result, some security. Though this album is not great, it is a start and it means that for now, they are back out touring and recording again. (which is good news) Who knows, maybe it will work again. Maybe we'll make up. Maybe we can start over. Maybe the old flame can be rekindled. Maybe the one that got away is the "one" after all. Maybe they can win us back. Oh, dear God, maybe first loves never die.

Maybe...