Dolour
Waiting for a World War (Sonic Boom Records)
By: Alex Steininger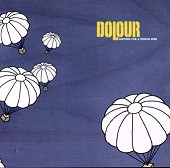 Dolour's Waiting for a World War reaches back the 60's while staying quite relevant with ample amounts of modern pop. A well-written, glorious mixture of syrupy vocals and melodies that swim around in your head, the indie pop band creates a sonic wall of saccharine with warm keyboards, spacey rhythms, and settling guitars that float through the songs, buzzing when needed.

A concoction of everything that makes pop music so memorable, it has the lyrical depth to make you want to listen to it over and over again. The rough edges so you don't get worn out on the sound too easily. The inviting vocals. And lush instrumentation that parks itself in your head and just keeps repeating itself long after the music has been shut off.

Dolour deliver soaring pop moments together with quiet, subtle jaunts through pop land, yet they're not afraid to get gritty and just rock out. They're the pop band you love to see live; they can crank it up and make you bounce or they can sit you down and have you attentively listening to every word. If every pop band was like this, I guarantee the world would be a better place. But, since every band is not like this, choose the obvious. Choose Delour. I'll give it an A.