Gary "Pig" Gold's Top 48 (NON-Kasenetz 'n' Katz) Bubblesongs of All Time! (in Alphabetical order)
By: Gary "Pig" Gold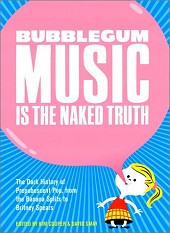 In celebration of the just-released "Bubblegum Is The Naked Truth" book (from those very good folk over at Feral House Press), may I humbly, and bubbly, present:

GARY PIG GOLD'S TOP 48 (NON-Kasenetz 'n' Katz) BUBBLESONGS OF ALL TIME!
(in Alphabetical order)

1. "ALICE LONG" Tommy Boyce & Bobby Hart
2. "ANYBODY LIKE YOU" by Shane Faubert
3. "ARIZONA" Mark Lindsay
4. "BLUE KISS" Jane Wiedlin
5. "BLITZKRIEG BOP" Ramones
6. "CALENDAR GIRL" Neil Sedaka
7. "CAN'T YOU HEAR MY HEARTBEAT" Herman's Hermits
8. "CHERRY LU" The Loved Ones
9. "COME ON DOWN TO MY BOAT" Every Mother's Son
10. "CORNFLAKES AND ICE CREAM" Lords Of London
11. "DA DA DA" Trio
12. "FEELIN SO GOOD (S.K.O.O.B.Y-D.O.O.)" by The Archies
13. "HE'S THE ONE" by The Masticators
14. "HEY DEANIE" Shaun Cassidy
15. "I COULD BE HAPPY" Altered Images
16. "ICE CREAM MAN" Jonathan Richman and the Modern Lovers
17. "IF YOU'RE THINKING WHAT I'M THINKING" Dino, Desi & Billy
18. "I'M THE URBAN SPACEMAN" by The Bonzo Dog (Doo-Dah) Band
19. "INDIAN LAKE" by The Cowsills
20. "IT WAS I" by Lindsey Buckingham
21. "IT'S A SUNSHINE DAY" by The Brady Bunch
22. "JELLY ROLL GUM DROP" by Ruben & the Jets
23. "JENNIFER ECCLES" by The Hollies
24. "KEEP ON DANCING" by The Gentrys
25. "LA LA LA" by Gerry & the Pacemakers
26. "LET'S HANG ON" by The Four Seasons
27. "LITTLE RED RIDING HOOD" by Sam The Sham & the Pharaohs
28. "LOLLIPOP" by The Chordettes
29. "LOOK BEFORE YOU LEAP" by The Dave Clark Five
30. "LOVEDROPS" by Barry Allen
31. "LOVING YOU AIN'T EASY" by Pagliaro
32. "MR. SUN MR. MOON" by Paul Revere & the Raiders
33. "MIRAGE" by Tommy James & the Shondells
34. "NEANDERTHAL MAN" by Hotlegs
35. "NOBODY BUT ME" by The Human Beinz
36. "POPSICLE" by Jan & Dean
37. "RAINBOW RIDE" by Andy Kim
38. "RASPBERRY BERET" by Prince
39. "ROCK AND ROLL LOVE LETTER" by The Bay City Rollers
40. "SHA LA LA" by Manfred Mann
41. "SNOOPY VS. THE RED BARON" by The Royal Guardsmen
42. "SOMEONE'S COMING" by The Who
43. "SURFIN BIRD" by The Trashmen
44. "SWEET PEA" by Tommy Roe
45. "SWEETS FOR MY SWEET" by The Searchers
46. "WOMBAT PARTY" by Butterscott
47. "YOU BABY" by The Turtles
48. "(YOU DON'T HAVE TO) PAINT ME A PICTURE" by Gary Lewis & the Playboys

So! Ungum those ears, wipe that Fleer off your face, and head right on out to yer fave bookstore and grab a copy of "Bubblegum Music Is The Naked Truth" right this instant, ok?