The Real Kids
Senseless - Live at Cantone's 1982 (Norton Records)
By: Alex Steininger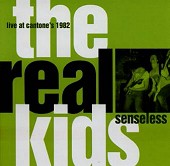 Late seventies, early 80's garage punk rockers The Real Kids have made waves as-of-late, regrouping to tour, playing packed housed across the nation, and seeing their out-of-print material, studio albums and outtakes alike, released.

Norton Records, known for there re-issues and ability to dig deep into the vaults to find unreleased material to finally release, is delivering yet another collection of The Real Kids chaotic, rambunctious music. This time in the form of a live album.

Senseless - Live at Cantone's 1982 is all there. Raw, sweaty, and energetic, a glimpse into the genius of a rare rock band, able to capture a musical time period in a sound that is both current of the times and so modern, it will say current for generations.

So, even twenty years later, The Real Kids' brawling rock 'n' roll is perfectly in place, sounding refreshing well past its alleged expiration date. This is rock 'n' roll the way it was meant to be. I'll give it an A.