Our Lady Peace
Spiritual Machines (Columbia)
By: Alex Steininger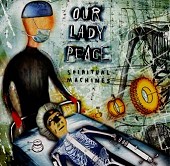 Huge in Canada, Americans have all but forgotten Our Lady Peace, a band that had a moderate hit at one point, but then seemed to just fade away. However, their latest, Spiritual Machines is a poppy collection of rock songs that build, unleash, and explode, capturing the hard side of a good modern rock band with the addictive, sugar-coated touch of a band capable of writing clever pop hooks.

Spiritual Machines is a moderate record, focusing either on the pop hook, or on building momentum by starting very slow and getting progressively more rock as the song goes. The outcome is an entertaining record, one that will give you the chance to rock out, while still serving up plenty of contemplative pop moments. A solid record, I'll give it a B+.