Anthony Rapp
Look Around (Paigow)
By: Alex Steininger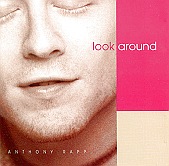 Anthony Rapp, best known for being one of the original cast members on the Broadway play Rent, delivers anything but a typical singer-songwriter album. From slightly-funky, slightly jazzy jams to full-blown rockers, the majority of the album is sensitive, yet hook-driven pop songs that are both lush and raw, grabbing you with equal parts control and chaos, ensuring once you hit play, you'll be on a ride for the next forty-five minutes.

It has its weak spots, spots where Rapp could benefit from having an experienced producer, and spots where he needs to pull the songs together a bit more. Overall, though, this is a hook-y pop record that you should find quite enjoyable. I'll give it a B-.