Jindra
Guitar + Voice (self-released)
By: Alex Steininger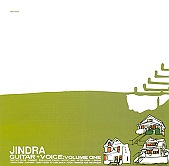 Not quite folk, not quite blues, Jindra goes for a soulful, blues-tinted pop sound on Guitar + Voice, a solo acoustic album from a songwriter who needs more than just a guitar to bring his songs to life. As it stands, the songs sound lonesome, as if they're missing a crucial piece to pull them together.

It's always been my opinion of if you're going to go completely solo acoustic, you better have good lyrics to back it up, because when its just you and a guitar, the words matter most. Here, however, Jindra comes up short. I'll give it a C-.