Sorry About Dresden
The Convenience of Indecision (Saddle Creek)
By: Alex Steininger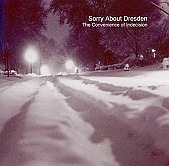 I first heard about Sorry About Dresden because one of the members, Matt, runs Skyway, a Replacements mailing list. He posted some info about Sorry About Dresden and their upcoming tour, as well as a link to their webpage. I checked out the webpage and then a week later the CD showed up at my house. Now familiar with the title, I put it in my CD player and started listening to it.

What I heard was a delicately crafted, emotional pop record that may pass for emo in some circles, but is so much more. The sullen guitars trickle while the shaking vocals tremble with thoughts of what might-have-been or could-have-been, sometimes choking up enough optimism to contemplate what could be.

Supple, yet faint instrumentation spreads the songs to just the right consistency, making them lightweight, but still able bodied enough to knock you over with plenty of deep, emotional punches. Lyrically, the album is worth listening to. Musically it's even more pleasurable. An all around solid album, Sorry About Dresden will hit you when you're comfortable and you'll never look back. I'll give it an A.