Tori Amos
Strange Little Girls (Atlantic Records)
By: Martin Royle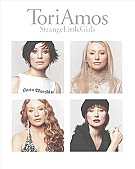 I knew this girl who liked to talk about covers. One time she said, "What's in a name? That which we call a rose would by other name smell as sweet." She knew a lot about music that girl. If you want to cover something and do it right, you gotta find the heart of the song you're going after. Big words have root words, and good songs have root emotions. Find the un-obscured meaning, and you can show the world how you sound when you're feeling that root emotion (different sound, same feeling). Covers suck when the musician misreads the root emotion, or worse, tries to use the original intention of the song to make a point (covers that are supposed to be ironic suck ass). This line is thin, and good bands can hit or miss it. Tori Amos' 'Strange Little Girls' misses more than it hits.

The concept of this album as it was advertised, was really fucking interesting. Telling a man's story about women from a woman's perspective is great, and the inlay, with Amos dressed as various characters from the songs she covers was equally promising. Too bad that the tendency on this album is to do what you shouldn't do with covers, change them to fit your accepted range of emotions. The album makes you ask, "What song is this that Tori Amos is covering?", as opposed to "Who's the musician covering this famous song?". The frantic purity of "Enjoy The Silence" is replaced with piano angst and melancholy, 'Happiness is a Warm Gun' is turned into a gen x commentary about gun control, and 'Heart of Stone' just sounds like shit. It sounds like Amos is missing the point sometimes, accenting the line "Oh my little girl" in 'Enjoy the Silence' like the song is paternalistic. Basically, it's ego over art.

There is one incredible exception. The second track, a cover of Eminem's '97 Bonnie and Clyde'. This is a great cover, more the song than the original. Amos reveals the true face of Slim Shady as he drives to the beach to dump his wife's body. Explaining to his daughter what they're doing, Amos makes the father sounds truly tortured and insane. From Eminem's mouth, it's easy to miss the daughter screaming into her mother's ear to try to wake her up, or the daughter trying to escape her insane father, details that are brought out with chilling clarity in Amos' version.

For the first time, you feel real sympathy for the dead wife and her poor daughter, the victims of a crazy father's rage.

If you're an Amos fan, you'll like this album a lot. There's no shortage of beautfil vocals and well crafted piano. However, if you looking to enjoy songs that you've loved for years, than better to stick with the originals.