Kasey Anderson
Harold St. Blues (Resonance Records)
By: Alex Steininger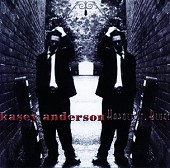 There are very few mind-blowing storytellers left. Bob Dylan, Tom Waits, and Bruce Springsteen could all tell a story to a listener and make the listener believe they were there, living the story first hand.

The days of the great storyteller seem to be alive only in the classic albums that will never be forgotten. But, there are some songwriters out there carrying on the tradition and making a go at another wave of storytelling classics-to-be. They're not trying to be as good as Bob Dylan or his associates, but they are trying to be good enough to make you believe that the art of storytelling hasn't gone the way of the dinosaur. Scott Miller, Ryan Adams, and Steve Earle can all put you in the picture as they draw it.

That list isn't complete. Not until we add newcomer Kasey Anderson's name to it, a young storyteller quickly climbing the ranks, standing along side the likes of Scott Miller, Ryan Adams, and Steve Earle with genuine, passionate songwriting, rootsy, heartfelt melodies, and vivid stories spun into three minute nuggets.

His debut, Harold St. Blues is a remarkable offering, especially considering it is a self-released debut recorded on friend's equipment. Easily described as country-folk, Anderson is so much more.

A skilled songwriter, he takes you to New York's big streets as your dreams get crushed and you seem so close to the edge, before you pick yourself up, shake off the dust, and say "Goodbye New York."

He creates fiction, spinning it like an old-time tale that will surely get repeated and embellished a hundred times over on "The Ballad of Joseph Brown," a ballad about an outlaw named Joseph Brown - a character Anderson creates with detail and flair.

Then there is the back-porch stomp of "Outlaw's Lament", a song about picking up and moving on. Or the contemplative tone of "Blvd.," a sad lost-love tale that will have you in tears. It opens up the album and sets you up for the hard knocks, good times, and rays of sunshine amongst depression that will sock you over and over again through these ten tracks.

Kasey Anderson is a true talent, a rising star, and someone who should not be forgotten. Remember his name, because ten years from now people will be talking about how Kasey Anderson influenced them. This is a solid debut from a solid songwriter. I'll give it an A.