A.C. Cotton
Half Way Down (A.C. Cotton / In Music We Trust)
By: A.C. Cotton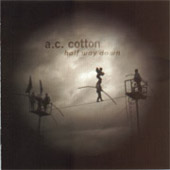 "Gonna change my name to Cotton, and move down to the south..."
After receiving critical praise for his 1999 release Seconds West, Alan Charing has returned with a new band and a new record of hard-hitting rock and roll. half way down, the first full length from a.c. cotton, straddles the crossroads of power-country, backporch blues and whiskey-soaked rock. It is the sound of sleepless nights spent writing songs. It is the sound of four guys sweating it out on jukejoint stages, a band determined to go as far as the road will take them.
Half Way Down was produced by Luther Russell (Fernando, Freewheelers, Richmond Fontaine) in Portland, Oregon at Larry Crane1s Jackpot! Studio. With bassist Todd Corbett, guitarist Brett Davis and Sean Oldham on drums, Russell has helped the band hone its best assets, namely a high-energy electric sound reminiscent of the Stones and the Band, and Alan1s evocative, stream-of-conscious lyrics. It is those lyrics that critics keep coming back to, comparing Alan to the master wordsmith himself, Bob Dylan.
In 1999 Seattle indie LazyBones released Alan1s debut solo LP Seconds West, which garnered rave reviews from the Big Takeover, Virtually Alternative and Detour Magazine among others, and brought Charing to the attention of MTV, who placed his songs on The Real World and Undressed. NBC also placed a few of Charing1s compositions on Providence. Alan and the band haven1t had much time for watching tv though, playing such notable gigs as the Sundance Film Festival, Bumbershoot, and the North By Northwest Music festival, as well as touring the US last summer in support of their six-song ep all this all or nothing. They plan to press on and do the same for half way down, so keep your ears open for a.c. cotton. And enjoy.
Discography
Alan Charing - A Boy and His Dog EP (1997)
Alan Charing - Seconds West LP (1999)
The Alan Charing Controversy - All This All Or Nothing EP (2000)
A.C. Cotton - Half Way Down LP (2001)