Ruby Vileos
The King Is Dead (Whee Music)
By: Alex Steininger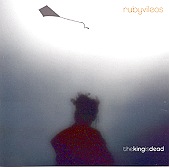 Ruby Vileos is a good, solid band. They have room to grow and could work on a few things, like songs that are a bit more immediate, songs that grab you and make you want to listen, rather than making the listener do the work. The songs will grow on you if you do the work, but if you are just in it for the casual listen, the blandness will consume you and you'll turn it out or turn it off.

Ruby Vileos isn't that original. Their songs are standard, out-of-the-box indie-rock songs, built around pretty pop, shaken, and then fleshed out with guitars and a driving rhythm section. But, even when they try to write hooks or really grabbing numbers, they just come out as watered down, typical indie-rock. However, like I said, they are good and show a lot of promise. They just need to find themselves. Until then, they're a dime a dozen. I'll give it a C.