DVD REVIEW: The Sopranos
The Complete Second Season (HBO)
By: Randy Harward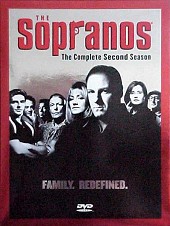 With The Sopranos, the bar has for episodic television has been raised to a seemingly impossible level. The concept of examining the quirks and complexities of home family and "business" family alone makes the series a jewel, but the writing, the performances--as much as I like to avoid catch phrase, fuhgeddaboudit.

Without spoiling anything for the poor, cable-impaired souls who have to wait for these collections, The Complete Second Season is simply another magnificent excuse to spend 13 hours on the couch. In a row, in installments--it's up to you. The Sopranos is like the book you can't put down.

Special features include director's commentary on "Commendatori," "From Where to Eternity," "The Knight In White Satin Armor" and season finale "Funhouse." Also included are two featurettes (although, with The Sopranos, this reviewer prefers to keep the behind-the-scenes action at arm's length so as not to corrupt the fantasy element, they might be of interest) and web links.