David Parmley & Friends
What We Leave Behind (Pinecastle)
By: Alex Steininger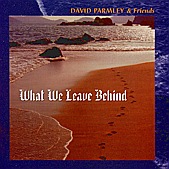 David Parmley & Friends' What We Leave Behind is a virtual who's who of the bluegrass world, from Bad Livers' Danny Barnes, Russell Moore, Larry Stephenson, Del McCoury, Jim Hurst, and Steve Day to Aubrey Haynie and Missy Raines. Anyone who knows bluegrass knows that this is a quality line-up that can not be passed on.

What to expect? An exceptional, flawless collection of timeless bluegrass sounds lead by David Parmley's warm, tender vocals and impeccable musicianship. Taking choice songs and turning them into modern masterpieces, Parmley and his friends do bluegrass right and create one of the year's best bluegrass records. I'll give it an A.