Bad Taste
DVD (Anchor Bay Entertainment)
By: Randy Harward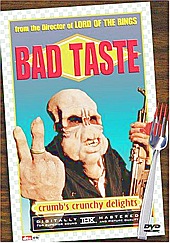 Let me preface this review by saying it's a shame Lord Of The Rings will be the film the masses recognize Peter Jackson for, as classic sickfests such as Bad Taste, Dead Alive, and Meet The Feebles represent his true talent. Here's hoping he uses the cash from LOTR to finance an even more disgusting film...

So, to Bad Taste, then.

This tale of aliens who come to Earth to make humans into the extraterrestrial equivalent of McNuggets is a hilariously disgusting, disgustingly hilarious, and somewhat socially relevant, should you care to look past its surface elements. God bless Anchor Bay Entertainment for making it available on DVD. There are no extras to speak of (look to the special tri-fold lenticular edition for those) beyond the widescreen presentation, trailer and Peter Jackson bio. Still, the film is the true treasure.