Hiding Out
DVD (Anchor Bay Entertainment)
By: Randy Harward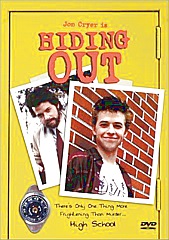 Hiding Out is one of those non-Hughes films from the 80s that you'll remember forever. You likely know the premise: Wall Street up-and-comer Cryer gets ass-deep in a bogus bond scam...shepherded by the mob, of course...and goes incognito in his cousin's high school, only to fall in love with a classmate and become big man on campus.

Extras are the widescreen presentation and trailer.