Jennifer Hope
Reflections of An Enchanted Soul (Mystic Dreams Music)
By: Jett Black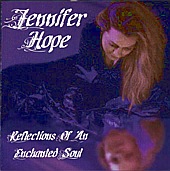 Jennifer Hope, who brought us "Winds of Tomorrow" and has contributed to numerous compilations - such as "Songs of Terror - A Gothic Tribute to Edgar Allan Poe"; now follows up with her latest CD, "Reflections of an Enchanted Soul".

Reflections of an Enchanted Soul features 6 tracks for the electro-goth-pop music enthusiast which lean toward an introspective reflection of romantic love.

Opening with the Title Track, Jennifer Hope's lyrics take a perspective of a lover mesmerized by the concept of love with an undisclosed significant other, a "kindred spirit of another side".

Next, "Deja Vu" , speaks well to my own experiences in serial relationships which sometimes leave me confused and with a pervasive sense of "Deja Vu", as though I find myself repeating patterns in romantic interludes.

'Destined to be together' sums up the message within "Don't Leave Destiny" - a song for lovers struggling to hold on to a belief in predetermined enamored fate.

Covering Enya's extraordinary lyrics of "Exile", Jennifer delivers an elegant tribute mirroring with respect to the integrity of this original favourite.

At last, my truly favourite track on this album, "Immortal Love" explained best by these words from the Chorus: "Immortal Life Eternal, This Love will Never Die". The synth production on this particular track really pushes the album forth onto the realm of the dance-floor, which by today's standards is quite an accomplishment.

The closing track presents a remix of "Angels Alone", a slow, cascading veil of emotive swirly dancing wraps up this abbreviated collection of songs from this budding new gothic songwriter, Jennifer Hope.

I do hope that Jennifer will bring to the fore more music for the gothic community with a lengthier collection of songs.