The Dishes
1-2 (No. 89 Records)
By: Alex Steininger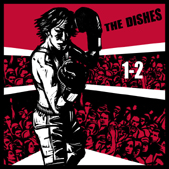 Electric charged garage rock amped up and ready to break the speed of light, The Dishes' aptly titled 1-2, with a boxing theme in the artwork, makes good on its promise and T-K-O's you track after track. You'll stand up, take the abuse, fall back down, and come up for more, always inevitably falling pray to their sexy vixen image, not realizing or remembering they rock harder than most males out there.

Imagine six Long Island Ice Teas, a ride on the world's fastest roller coaster, and the agonizing morning after. The Dishes create mayhem not unlike that, however, less agonizing, more exciting, and hands down more fun.

The lightning rod of punk rock, The Dishes do garage rock, hard rock, and punk justice, a mixture most rock 'n' roll bands strive for, but rarely achieve. Raise your glass and toast the new millennium's greatest rock band. I'll give this an A+.