Supersuckers
Must've Been Live (Mid-Fi Records)
By: Alex Steininger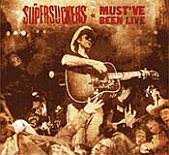 Those crazy bastards known as The Supersuckers are the epitome of rock 'n' roll, a Hank Williams loving, AC/DC worshipping rock band that can give anyone, even someone like Motorhead, a run for their money.

Loud guitars and ear-buzzing live shows aren't what they're all about, as they proved on Must've Been High, their Sup Pop-released country album. Taking another stab at the country, The Supersuckers' Must've Been Live includes several Must've Been High tracks, as well as a few new songs and covers, all recorded live in Texas.

From Eddie Spaghetti's ability to write the perfect tunes to drink and lounge around to, through the band's superior grasp of country, these drunken rock 'n' rollers do country right, putting a spin on it as only the 'Suckers can, while staying true to country's roots.

This is a soulful, good time country album that will make fans of The Supersuckers creme their pants, and country fans hesitant of some "rock band" doing country take a second and third look before caving in and admitting their love for this masterpiece. I'll give it an A+.