INTERVIEW: Alaska!
Sebadoh and Lowercase Members Create Alaska!
By: Alex Steininger
Photos By: Kristina Kite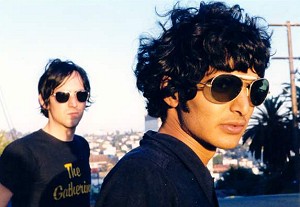 Sebadoh/Folk Implosion drummer Russell Pollard is a gift in the music world, the perfect addition to round out any band. Just ask Sebadoh/Folk Implosion front man Lou Barlow.

That is only half Pollard's gift, though. Where some of the most accomplished side men stray, Pollard conquers, proving with Alaska!, the band he co-fronts with ex-Lowercase front man Imaad Wasif, that he is a well-rounded musician and can collaborate, write songs, and back up anyone with ease.

Imaad Wasif, the guitarist for Folk Implosion, is no slouch, either. A veteran songwriter, Wasif brings experience to the songwriting pool of Alaska!.

Together, the two multi-instrumentalists/songwriters deliver shattering acoustic-based pop songs that somehow manage to travel between whispery acoustics and loud, full-on rock.

The two have been working on Alaska! since February of 2000, jumping between San Francisco (Pollard's old hometown) and Berkeley (Wasif's former residency).

"After I moved to L.A., Alaska! was going to have to do one of two things. Either Imaad was going to have to move to L.A. or Alaska! was going to have to stop. Neither of us wanted to stop doing it, so when the opportunity for Imaad to join Folk Implosion came along, we both jumped at the chance," said Pollard.

"Lou [Barlow] always wanted to play with Imaad. Once Lou found out I was playing with Imaad in Alaska!, he was really happy about it. Then a Folk Implosion tour came up, and we didn't know what to do. We knew we didn't want an L.A. studio musician.

"Lou eventually brought up Imaad and asked if it was ok. Of course it was. So, we asked Imaad to join the band. He had ten days to rehearse and it worked. We took guitars on the tour and worked on Alaska!. Lou's really good about it. Imaad and I are in a good spot. Lou's very supportive."

All signs point to success for Alaska!, as Pollard further points out with the band's quick progression from garage to the stage.

"We're been taking a backwards approach the whole time," he says. "We started in February 2000 as friends doing something different. We started slow, playing just for fun with no agenda. Then we got a bunch of show offers before we had recorded anything. Our last tour with Elliott Smith was the first set of shows where we had something to sell."

The band is currently in the studio working on their debut full-length, working on it in between Folk Implosion recording sessions.

"We were working really hard on Alaska! while we were waiting on Folk Implosion," a proud Pollard states. "Now that Folk Implosion's album is due to the label by April 30th, Alaska! will have to slow down for a bit. We'll spend the entire month of May on Alaska! stuff, though."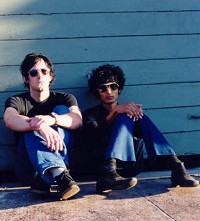 Breaks between recording sessions do little to slow down Alaska!, as Pollard and Wasif are as determined as ever to get the Alaska! full-length out to fans. The key to it all is the band's patience, deciding together that it would be better to work on the album song by song, piece by piece, rather than rush something out for the sake of having something out.
"We're taking our time with the album so we can make it the way we want it to be," admits Pollard on the band's strategy.
"So far it's been just the two of us on the record. We pick and choose which instruments to play and play them ourselves. In the future, though, we're thinking of having some people play on a few songs so we can get used to playing with other people."
Up until now, the band has primarily been Pollard and Wasif, with two acoustic guitars and their voices, delivering harmony-laden pop masterpieces. But, as the recording gets close to completion, the band has plans to elaborate on their live sound, helping to ensure it matches what they've been able to put on tape.
"Tomorrow night is our first show with a drummer," comments Pollard.
Bringing a drummer into the fold, the band is getting closer to completing the record.
"We have five or six songs so far on tape that sound good," he says. "We have 16 songs written so far, six we've had since we started. The twelve songs that make the album we'll pick and choose from the 16.
"It will be an interesting album. We'll keep the quiet stuff in tact, but make it sound live like on a bluegrass album. Then we'll have the real rocking stuff."
We then start talking about the band's evolution from February 2000 to now, of which Pollard is quick to point out the direction the band is currently leaning more towards.
"We've gotten more soulful. I don't want it to be rock. There is nothing wrong with rock, but I want to affect people with soul and not rock. With the drummer it's louder, but as long as we can hear our voices, which we can, it's fine. We have a little sound to hide behind.
"When you're playing live, you're naked. The words are important, like a story. No matter what we do, we want you to be able to hear our voices."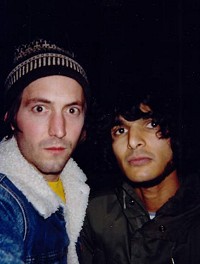 With a heavy commitment to Folk Implosion, Alaska! would be a mere side project for most. But Pollard doesn't see it that way. Folk Implosion and Alaska! are his current musical outlets (as Sebadoh is on hold while Lou Barlow works on Folk Implosion), and he treats both with equal care and priority.
"We have a schedule we try and keep to," Pollard tells me regarding time management. "Folk Implosion worked hard through the summer to get the songs, find something interesting, and make a record.
"Imaad and I work every week between Folk Implosion and Alaska!. Between the two music is a full time job. We have the luxury of focusing on music full time, and because of that we'll work for six or even seven hours straight a day."
"I really enjoy it," he quickly adds. "It never feels like work. When Imaad and I don't work, and take a day off, we feel guilty. The only way to do it is to not have a life. But, then you get to tour and make it up to Portland and Seattle, and meet new people."
Alaska! plays to release their debut full-length by the summer of 2002. As Pollard puts it, "Every month or so we re-learn the songs and re-work them. By the time we release a record, we'll be really happy with it."