INTERVIEW: Elyse Weinberg
Elyse Weinberg's Second Life
By: Stan Hall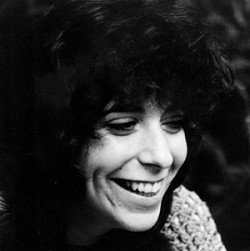 The Blackbird is a Portland indie-rock venue located in an unusual part of town. Due to the criss-crossing of several streets, the buildings in the club's area are arranged in awkward triangular lots, resulting in sometimes baffling intersections. Considering the vagaries of the traffic lights at these intersections, perhaps it's not surprising that confused motorists have been known to drive their vehicles directly into businesses, including an off-duty police officer who plowed his pickup truck into the Blackbird's kitchen last August (no one was hurt). But business is good -- the Blackbird's multi-leveled dimensions, blood-red walls and budget-minded vegetarian menu prove cozily attractive even on nights when the music isn't all that great.

One night last September, a short, fifty-something woman sat quietly at a table, casually dressed, not drinking anything, intently watching Portland's Amy Annelle and her band the Places play their fragile, hushed pop songs. At first glance, it would be easy to assume that the woman was a relative, perhaps Annelle's mother. But when Annelle finished her set and told the 30 or so patrons her excitement over hearing the next act, a friend of hers, the older woman stood up and made her way to stage.

The woman plugged in her electro-acoustic guitar and, speaking quickly and somewhat nervously, thanked the audience for showing up, thanked Annelle for giving her the opportunity to play and explained that she was going to start with a song from a record she made 32 years ago. The Blackbird may seem an unusual place to see a reminder of a bygone musical era, but as the woman played a serene, dreamy chord progression and sang in a near-rasp a song of intense devotion, the youngish crowd paid attention, hearing something that resonated. The room was as quiet as the song, and a revving motorcycle made for a rude intrusion as it sped by outside, just a few feet away. As the song ended, the audience reacted with respectful applause. The vast majority of the people in the room had little or no knowledge of the performer's remarkable past, but they related to her music.

A call out of nowhere

In late 2000, Cori Bishop, 56, received a call at her Ashland, Oregon home that she never expected, a call that took her back to another life, lived by a different person. In a sense, it was.

An old songwriting partner rang Bishop up to say that a young man from Georgia had contacted him, asking about her past career in music, back when her name was Elyse Weinberg. The young man's rock band had heard an LP Weinberg recorded more than 30 years ago, loved it and wanted permission to reissue it on CD.

The inquiring youngster was Andrew Rieger, singer-guitarist of the Athens, Georgia band Elf Power. Many months earlier, he had purchased an old record without knowing anything about its contents. It was Weinberg's 1968 album "Elyse," a long out-of-print release by Tetragrammaton, a defunct label that had been co-owned by comedian Bill Cosby. "I bought the 'Elyse' record in a thrift shop in Missoula, Montana, because I thought the cover illustration, a knight kneeling beside a dying maiden's deathbed with a dragon watching over, looked pretty cool," he says. "My record player at the time was broken, so I didn't actually end up listening to the album until six months after I bought it."

When Rieger and his bandmate Laura Carter finally heard it, they discovered connections to not only their own band's music, but to the whole Elephant 6 musical collective, a family of like-minded bands that, besides Elf Power, include Neutral Milk Hotel, Apples in Stereo, Beulah and the sadly defunct Olivia Tremor Control. "Laura immediately fell in love with the record as well," Reiger says. "I liked the psychedelic flourishes in the production, the folksiness of the playing and, most of all, the desperate quality of the singing and lyrics."

Carter had recently started a artist-musician co-op and record label called Orange Twin (check out its website at www.orangetwin.com for a superb collection of Elephant 6-related material for sale) and decided that no matter how old and forgotten the "Elyse" album may have been, the time was right to reintroduce it to a younger generation of discriminating pop music fans. But first, they had to locate Elyse Weinberg, not knowing that in name, she hadn't existed for more than two decades.

The deeds she did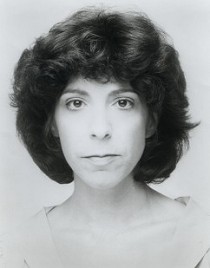 Born and raised in Canada, Weinberg emerged from the same mid-'60s Toronto folk scene that launched the careers of Neil Young, Gordon Lightfoot and Joni Mitchell. And like some of her famous colleagues, she found herself in Los Angeles, although initially just to visit Young. Then she ended up staying a while with another acquaintance, Mama Cass Elliott of the Mamas & Papas. Weinberg had connections. "Cass introduced me to her manager, Roy Silver, and I got a record deal with the label he owned with Cosby, Tetragrammaton," she recalls.
The recording of "Elyse" was, she says, "over the top," with "no one producing anything. It reflected the times." Indeed, a listen today reveals a certain inspired insanity that is partly accountable for such a superb, occasionally stunning LP, an attention-grabbing mixture of death-fixated medieval folk, imaginative pop arrangements and very 60's psychedelic rock. Weinberg and her session band, an L.A. group called Touch, sound as alluringly sloppy as Janis Joplin's Big Brother & the Holding Company on some tracks, then follow those up with meticulously arranged, affecting love songs. Lyrically, it's a timely record, as the gallows humor and mortality obsessions seem perfectly suited to the ugliness that pervaded American society as the Sixties drew to a close. You can practically smell the dreadful anticipation of Tate-LaBianca and Altamont in the song's less-than-rosy scenarios.
But the album's most distinctive feature is Weinberg's voice, a wail that often bumps against the ceiling of its range, yet sounds singularly unmannered. Rieger's observation about a "desperate quality" is in appropriate; it might be a clich? to describe a singer's performance as sounding as if his or her life depends on it, but that's exactly what sets Weinberg's vocals on songs such as "Last Ditch Protocol" and a cover of Bert Jansch's "Deed I Do" apart from the rest of the 60's folkies. The closest contemporary comparison that could be made would be Lucinda Williams, and only if Williams could be imagined sounding extremely nervous. The cosmic coincidence about Rieger and Carter's find, a big reason why they felt compelled to find Weinberg, is the remarkable Elephant 6 feel to the songs; despite the fact that apparently no one in the collective ever heard Weinberg prior to last year, she sounds like a seminal influence.
"Elyse" sold fairly well upon its release, reaching #31 on the Billboard album chart. Tetragrammaton performed its publicity duties, taking out full-page ads in Billboard and other publications. Harlan Ellison wrote about her in his column for the alternative paper the L.A. Weekly, and Newsweek featured her alongside Mitchell and Laura Nyro in a profile on the emergence of solo female songwriters, a rarity up until that point, Odetta and Joan Baez notwithstanding. She played big L.A. clubs such as the Troubadour and did her stints on the festival circuit. Weinberg even played Johnny Carson's "Tonight Show," which, considering her wild-haired appearance and intense music, must have been quite a trip for last-night TV America (Ellison's article decried the shabby treatment she allegedly received from guest host Flip Wilson, though today she doesn't recall anything like that).
Alas, mass acceptance remained just out of her reach. Perhaps the signature failure was when Cher recorded Weinberg's song "Band of Thieves" for the soundtrack to her acting debut, the 1969 film "Chastity." When she attended the movie, mostly to see her name in the credits, she read to her disbelief: "All Songs By Sonny Bono." The misunderstanding (or deliberate slight) was never rectified.
Around 1971, Weinberg recorded a follow-up, "Grease Paint Smile," but Tetragrammaton went bust before its release, and the project died on the vine, leaving Neil Young's guest guitar contributions in the vault (until now; the reissue contains as a selling point the bonus track "Houses," one of the Young-played songs from the aborted album). Shortly thereafter she signed with David Geffen's fledgling Asylum label and recorded a third, unreleased album, "Wildfire." She then decided to abandon her management, record company and music career.
"I just drifted away," she says today. "I kept writing songs, but as I entered onto a spiritual path, I just drifted away from that lifestyle, which was fortunate." Asked whether that lifestyle contained self-destructive elements, she demurs but says it was a blessing that she escaped while she was still alive. Part of her new path was a change in identity: around this time, Elyse Weinberg became Cori Bishop.
Bishop lived a quiet, normal life in Los Angeles for many years before moving to Santa Fe, New Mexico, in the early '90s, and then to Ashland, a place where she says "they can bury me, I love it so much," two years ago. These days, she works in the insurance business. But she's never quit writing songs, and like any inspired artist, she thinks her newer stuff is much, much better than those old tunes. In fact, she's a bit embarrassed by her debut record and plays little from it these days: "I couldn't hit the high notes now anyway."
Elyse returns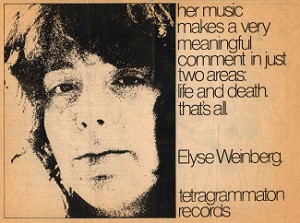 After many dead ends, Rieger and Carter struck paydirt through the Web site of Elyse Weinberg's song publisher, BMI, obtaining contact information for one of her old songwriting partners, Rich Goldman, who was still living in Los Angeles. "I got a call from Rich saying that he got a letter faxed to him by Andrew, hoping to get in touch with me," says Bishop. "And I called Andrew and he told me the story and asked about putting out my first record on CD and I said, 'sure!' He said, 'We're playing in Portland in a month, do you want to play a couple of your songs with us?' And I went, 'OK, sure!' I just kept saying, 'OK, why not?' It was a beautiful thing." Of course, the last time she had played live was "I don't know--the '70s."
On the day of the Elf Power show, a nervous Bishop drove up from Ashland and checked into a budget motel. She showed up promptly at Satyricon for the 8 p.m. sound check and experienced the thrill of "hearing my song coming over the sound system! They were playing my song! So I finally met the band after all this Internet stuff and phone calls. And I just wanted to meet them, just to say thank you for going to such lengths for me--we agreed we'd play a couple of my songs at the sound check and if they sounded good, the band would back me up and if they didn't, I'd do it myself." The sound check was satisfactory and later, facing a packed house of young Elf Power fans, she strapped on her 12-string acoustic guitar, signaled the band and launched into a two-song set of "Deed I Do" and "Last Ditch Protocol." The experience, she says, was amazing: "They played like angels, and all the tattooed kids seemed to really enjoy it." That was the night she met Annelle, who was Elf Power's other opening act; Annelle has become one of her biggest supporters, bringing her back to Portland for gigs such as the September performance at the Blackbird.
Meanwhile, a search of the vaults at Warner Brothers, which had inherited Tetragrammaton's titles when the latter liquidated its assets, revealed a heartbreaking fact: the "Elyse" master tapes had been thrown into the garbage, as is the custom when an out-of-print title reaches 30 years of age. It was only two years too late. Fortunately, Orange Twin located a mint condition original LP and re-mastered from the vinyl. The resulting CD sounds as good as one could expect of such a compromised source, though it does leave one slightly anguished that the masters are gone forever. It matters little to Andrew Rieger, though. "It's just a great record," he declares, "and anybody who likes good music should hear it."
Cori Bishop aka Elyse Weinberg isn't obsessing over her legacy, though she finds herself revealing more of her past to people in Ashland and her friends in the Southern Oregon Songwriters Association. She's formed a casual band called Baby Cori & the Buds and is excited about her musical future, though with few expectations. "Whatever happens, happens," she reasons. "I was content before all this recent stuff, and I'll be satisfied with whatever comes my way."
A sad truth is that no matter how many rare records even the most ardent pop music fan sniffs out, a lot of great music still slips away. A great number of should-be classic albums will not only fail to achieve such status, but will go out of print, disappear from the shelves and head towards virtual extinction, leaving only a lucky few to cherish their membership in the secret fan club of a very obscure artist. But sometimes, by fate, certain odd records escape this fate by ending up in the hands of a completely new audience that's ready to embrace what may have been neglected the first time around. The reissue of "Elyse" may not sell a boatload of copies, but Orange Twin's efforts give a worthy songwriter a chance to secure her work for posterity and be remembered in perpetuity. It's a form of artistic immortality.
"Elyse" is available by check, money order or credit card for $12 through Orange Twin, 475 Forest Road, Athens, GA 30605, or go to www.orangetwin.com