SHOW REVIEW: The Carlsonics
February 08, 2002 - The Velvet Lounge (Washington, DC)
By: Martin Royle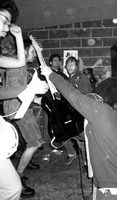 Rock and Roll. It's about back beat, it's about passion, it's about strength, it's about fun, it's about The Carlsonics. While bands with bigger expense accounts and weaker licks, lyrics and attitude are heralded as the future of rock and roll, the Carlsonics deliver. This isn't about trying to be a popstar. This is not about being pouty enough to fuck an Emo girl, this is not trying to be anything. This is fucking actual. This is fucking now. Look around you, and you'll see the walls starting to crumble.

I could describe the moves you see tonight. I could talk about frontman Aaron Carlson, and the way he stands on the speaker looking out a crowd half assembled and pulls back on an imaginary bow, only to have the band stop when he releases it. Energy pours off him. I could talk about the two guitars that spit rhythm and melody, and Ed, who puts his guitar on his amp, twisting his body to the feedback. Or Nikki, sweaty, sultry and playing a bass that moves with her as she fully knee bends to the floor, eyes closed, feeling every beat of the drummer who pushes the band past each change, into another exciting and soulful space of music. But what's the point?

You can't talk about this shit, because the words haven't been coined. I'm not saying "exciting"' and meaning the most recent brand of indy noodling. I'm not thinking tonight. My feat are stomping on the floor, my hands are clapping in sweet release. But I'm not the only one.

The Carlsonics deliver what most bands are trying to fake. This is at the heart of it. Most musicians today are playing for the outcome, playing a kind of music to get them in with a certain group of people. The Carlsonics are not in it for that. They are playing because they have to, because this is the beat they feel.

Just go and see them, and when you do, don't think about this writing, don't expect anything. Just go, and drink some beers and have a good time. It's just rock and roll, at a time when that's all you need. "This ain't no holiday/this ain't no revolution."