Logan's Loss
Filling The Frame (Logan's Loss)
By: Greta Salpeter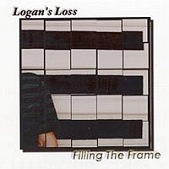 Just how every other band, artist, writer, etc. offers a new lens to look at the world, Logan's Loss provides their own. However, Logan's Loss has managed to create a lens that is not only completely novel, but also constantly intense and one that has more to offer than the thousands of other punk bands that span the U.S. Their music is honest with a sense of urgency, and despite the fact that some of their songs walk along the edgier ska side, all the songs seem to have a common quality, catchiness. Everything from low-fi pop to mope rock to post-hardcore simmers in the veins of their music, and they say that, "Any form of music that lives, breathes, feels, is true, and moving, is inspiring to us." It's hard to get a clear image of their music, but imagine if Ian McKaye left Fugazi and Robert Smith became the new lyrical visionary.

The band's latest and most solid line-up is made up of Brian Lapinski, Craig Tiede, TJ Milici, and Tom Aaron. Craig and Brian have been in the band since 1997 and they met TJ and Tom through the scene and their respective bands. They gelled seamlessly together and they make the most of their perfect chemistry to create not only a completely amazing sound, but also one of Chicago's finest bands.

Craig's vocals and bass are two of the most prominent, unique, attributes that help to make their sound so irresistible. The diversity and chemistry between T.J. and Tom on guitar creates a completely searing, overpowering sound, while still being upbeat enough to make their music catchy and fun. Brian's incredible skill on the drums adds a perfect texture and feeling to their music, and just as all things change over the course of time, so has their sound. It has entered an evolution towards being more pure. In Craig's words, it has become, "More honest. More urgent. More patient. More subtle. More scathing. More better. More rock."...And there is truly no denying that.

Logan's Loss is the bastard child of Chicago's rich punk rock history. In it's purest form, Logan's Loss has been playing as a band since 2000. But the band name itself has been a household entity around Chicago since 1997, the "formative" years, which apparently yield an embarrassing and checkered past. The name Logan's Loss is a tribute to a youth skate punk icon of the same name. When the band first started playing in high school in 1997, the name arose from the fact that Logan was invited to be in the band but opted to be more punk rock and out of the spotlight for his own prerogative. The name seems to have lost meaning in time, as most things do in life, but ultimately if the name has any salvageable meaning, it is the fountain of youth that spawned this band and it is a token to all the people that it has brought together to make music.

Logan's Loss's shows are truly an amazing experience also, and they're one of the liveliest bands around. Playing as many shows as they can, there's bound to be some that just don't go their way and they optimistically say that, "When on tour and you play in front of three people, it can be the worst thing. But when those three people are in your face and dancing and being receptive to your music is the most fulfilling feeling."

They've played about everywhere in Chicago that there is to play, but Metro is most adored by them, along with endless other bands. Craig says that, "Its rich history, every time you step onto stage you try and retrace the footsteps of all the other great bands that played on the same stage before. It's euphoric. Not to mention it's the warmest room with the best sound. Not too big. Not too small. It is a testament to a grass roots approach to rock n roll. The club is awesome."

Their only current album is "Filling The Frame", but "Riotlike", their new EP on Sinister Records is due out on March 16th, should be available cross country, and will definitely live up to the high expectations that Logan's Loss has set for themselves through their music.