Busy Signals
pureenergy (Sugar Free Records)
By: Alex Steininger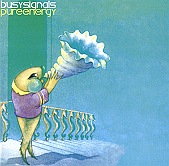 Howard W. Hamilton III is a mad genius in my mind. Pureenergy is well ahead of its time, an electronic pop-hop album that will have you singing along, dancing, and grooving to the lo-fi, loose brilliance that is Busy Signals.

Featured here are some new songs, outtakes, previously unreleased material, b-sides, and tracks featuring guest appearances by the likes of Har Mar Superstar and Phonte. From the opening hooks of the title track, the sugary treat of "Friend of a Friend" with vocals by Har Mar Superstar, and the R&B laced "Autopilot", this one of the best damn pop records out there. Heck, forget pop, this is one of the best records so far this year.

Busy Signals has long been a favorite of mine, and pureenergy is no exception, as HWHIII and his mad creation, the Busy Signals, delivers the goods and more, far exceeding your expectations while making your head spin and your lips move. I'll give this an A+.