Chris Lee
Chris Lee (Smells Like Records)
By: Cam Lindsay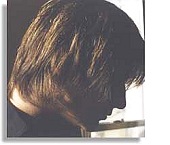 North Carolina's Chris Lee writes such big songs that are full of so much life, it doesn't sound for a minute like it was released by a small indie label like Steve Shelley's Smells Like Records. Co-produced by Sonic Youth's drummer and entrepreneur, [chris lee] plays & sings torch'd songs, charivari hymns & oriki blue-marches is magical songwriting and superb instrumentation from a relatively unknown newcomer (this is his second album) that draws up immediate comparisons to both Tim and Jeff Buckley, in the most sincere way. Lee plays around with song structures like the way both Buckleys did, with the same obscure stylings. Another less obvious comparison would be Chan Marshall's Cat Power. Like Marshall, Lee's two main principal components, his voice and guitar, are captured beautifully in "In Yellow Moonlight", overlapping two layers of both, that maintain the same intensity that Jeff Buckley's Grace was drenched in.

His lyrics shine, giving a hopelessly romantic viewpoint of the beautiful things in life. Yet, the most stunning work on this record would have to be the instrumental "Mount Venus". A simple amalgamation of lightly strummed guitar and delicate horns the song is short and sweet, with a nice little touch of jazz to make it something different.