The Long Winters
The Worst You Can Do Is Harm (Barsuk Records)
By: Alex Steininger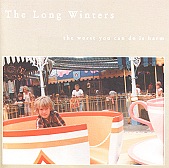 Harvey Danger's Sean Nelson and Death Cab For Cutie's Chris Walla team up with friend John Roderick to record his debut solo album. The outcome is The Long Winter's The Worst You Can Do Is Harm, an album that takes Roderick's solo songs to the next level, traveling through moments of eerie, glorious, and blissful.

The airy pop of "Mimi" sits well beside the gothic-country strut of "Samaritan". The eerie bounce of "Unsalted Butter" compliments the lush "Government Loans". And "Copernicus" gives you a taste of the dark, sorrow-inducing abilities of the album.

A collection of ten well-written, spacious songs, the light, airy feeling to each one will allow you time to soak them in as you listen to them again and again. As you repeat the record, you'll be trying to pick up something you missed the last time, as the quietness often allows the songs to pass by without a second thought. I'll give it a B+.