Tullycraft
Beat Surf Fun (Magic Marker Records)
By: Alex Steininger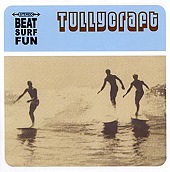 Starting off on a fast, bouncing note with "Twee", Tullycraft soon slow down, but keep the pop in full force, creating warm, tongue-in-cheek indie pop songs about indie rock kids and the indie rock scene, among other things. This is fun, pleasing pop music that will put a smile on your face, and make you laugh, and be the soundtrack to a good time. Though a lot of the songs swim around softer melodies, songs like "Radio Theme" straps on the rockets and blast forwards with a quick, to-the-point (under one minute) theme song that will get stuck in your head.

If you're looking for tight, punchy pop music with a soft side, but never loses its fun value, Tullycraft is your ticket. The songs are sugary and the beats are plentiful. Never a down moment, the album will always have you gleefully cheering for more. I'll give it a B+.